Streamlining Email Encryption Access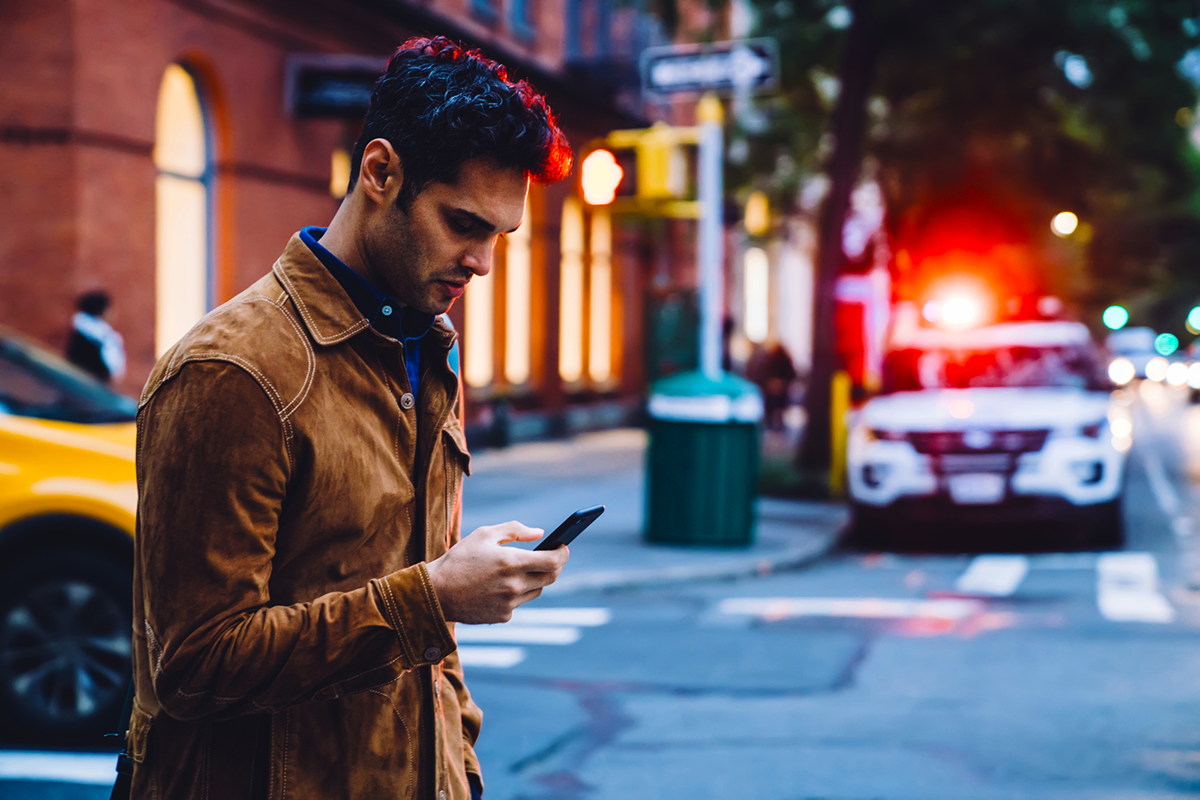 As organizations become increasingly digitized and dispersed, changing business cases demand modernization of sharing and access.
Email encryption is no exception to this trend as the growing need to increase comprehensive UX while maintaining top data security standards continues to be a top priority for businesses. Shifting towards a focus on usability is one way IT leaders are streamlining email encryption while keeping data secure.
User Acceptability: The Bottom Line
The bottom line is, no matter how secure your message security system is, it will only be valuable if people are actually using it. With this in mind, it's no surprise that a recent Echoworx-conducted survey reported that most IT and security decision-makers consider user acceptability as the number one factor to consider when assessing their authentication process, followed closely by workarounds and cost.
From this data, it's clear that for IT leaders, email encryption is no longer an investment solely based upon cost. While cost still remains a dominant factor in decision making, organizations are also looking closely at the overall value achieved with a secure, efficient, and streamlined system that offers the UX features employees want.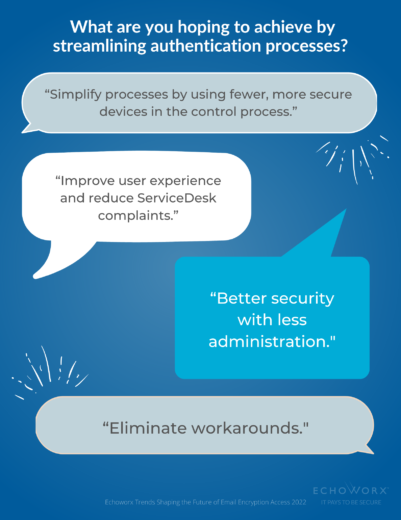 Less Hassle, More Security
IT leaders were unanimous in their feelings towards offering customers better authentication options to improve UX, with 100% saying that a streamlined process for secure information exchange is at least somewhat important to their workforce.
By reducing authentication steps through biometrics and third-party logins, IT and security leaders hope to improve security and improve user experience. Here is what some respondents had to share about what they hoped to achieve:
Over three quarters of IT leaders say improving security adoption for messages starts with removing barriers to authentication via methods, like social logins or biometrics. According to survey respondents, these authentication methods both help improve services and reduce IT headaches.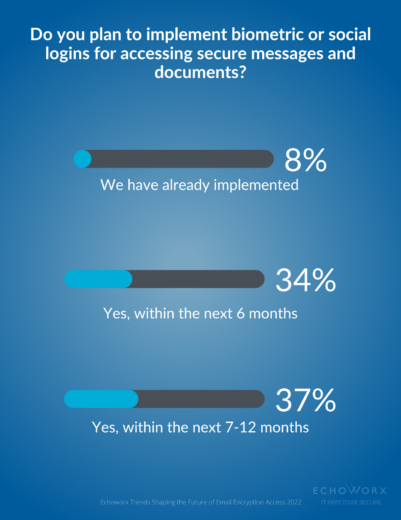 The emergence of streamlined authentication options is shaping the future of email encryption, with 34% of IT leaders planning to implement biometric or third-party social login options in the next 6 months, and 37% planning to implement in the next 7-12 months. With 71% of leaders planning to implement these measures within the coming year, it's clear that shifting towards usability centered security features is shaping next-gen authentication.
What You Should Do Now
Request your FREE personalized demo. Let us show you how you can get more of email encryption – to help you apply secure digital communication to different business cases.
Visit our FREE library of self-serve demonstration videos to see how Echoworx helps organizations address a variety of common business cases.
If you wish to learn more about the power and value of effective email encryption, visit our Resources Library to download guides, read up on the latest strategies and case studies of our most-successful clients.
Know someone else who would enjoy reading this page? Share it with them via email, LinkedIn, Twitter or Facebook.