Interoperability and Customization
Echoworx prioritizes your business's success by offering an innovative solution that ensures interoperability, customization, and unbeatable security.
Utilize Current DLP

Our seamless integration capabilities extend across multiple platforms, making us fully agnostic to DLP solutions. Echoworx effortlessly integrates with leading DLP solutions, including O365, Proofpoint, Mimecast, Broadcom/Symantec, Forcepoint, Fortra, Trustwave, Sophos, and many more.

Support Push/Pull Secure Mail

Echoworx offers both push and pull secure email delivery options. Our platform provides eight delivery options for your convenience. With our advanced portal, you can enjoy a fully reactive user interface and choose from multiple authentication options. Echoworx Email Encryption is designed to determine the best encryption delivery method for each recipient, taking into account predetermined policies, certificate availability, and user preference. This approach ensures that you, as the sender, don't have to worry about the recipient's encryption capabilities. Our system takes care of it on your behalf.

Integrate with Existing Mail

Echoworx seamlessly integrates with popular email clients like Gmail and Outlook. Outbound rules are easily set up alongside your existing SMTP-based mail filters. Emails are securely routed through a forced TLS connection to Echoworx for encryption. To enhance protection, third-party outbound email filtering, including hygiene, DLP, and archiving/backups, is implemented before sending for encryption.

Once encrypted, Echoworx provides the encrypted version of the email and/or notification emails, leaving only the task of DMARC/DKIM verification at your gateway.

For inbound emails, the secure reply or compose feature starts at the Echoworx portal. The unencrypted version of the email is securely transmitted over a forced TLS channel to your inbound gateway. Regular inspection and hygiene protocols are applied at the gateway before delivering the email to internal employees.
Offer Branding Customization

Echoworx offers a configuration-based solution, eliminating the need for coding customization, giving you control over all user-facing elements from interfaces to colors, branding to message templates.

Encryption policies can be easily added, modified, or removed to determine how and what messages are encrypted. Control is in your hands with extensive system settings and configuration options, including branding, password rules, notification frequency, and more.

Every customer enjoys the freedom to configure, down to the smallest detail such as adding their domain to their profile.

Our advanced branding features are so compelling, every single one of our clients utilizes them.

Language/Localization Support

Offering support in your customers' preferred languages is crucial. Our solution ensures that sensitive information is accurately conveyed, while also complying with jurisdictional language laws.

Recipients can easily choose their preferred language from the beginning or change it anytime through our secure portal. Personalize notifications in the language of your choice based on various criteria such as sender, recipient, keywords, or organizational attributes.

Echoworx email encryption supports 28 different languages, including English, Spanish, Chinese, French, and more.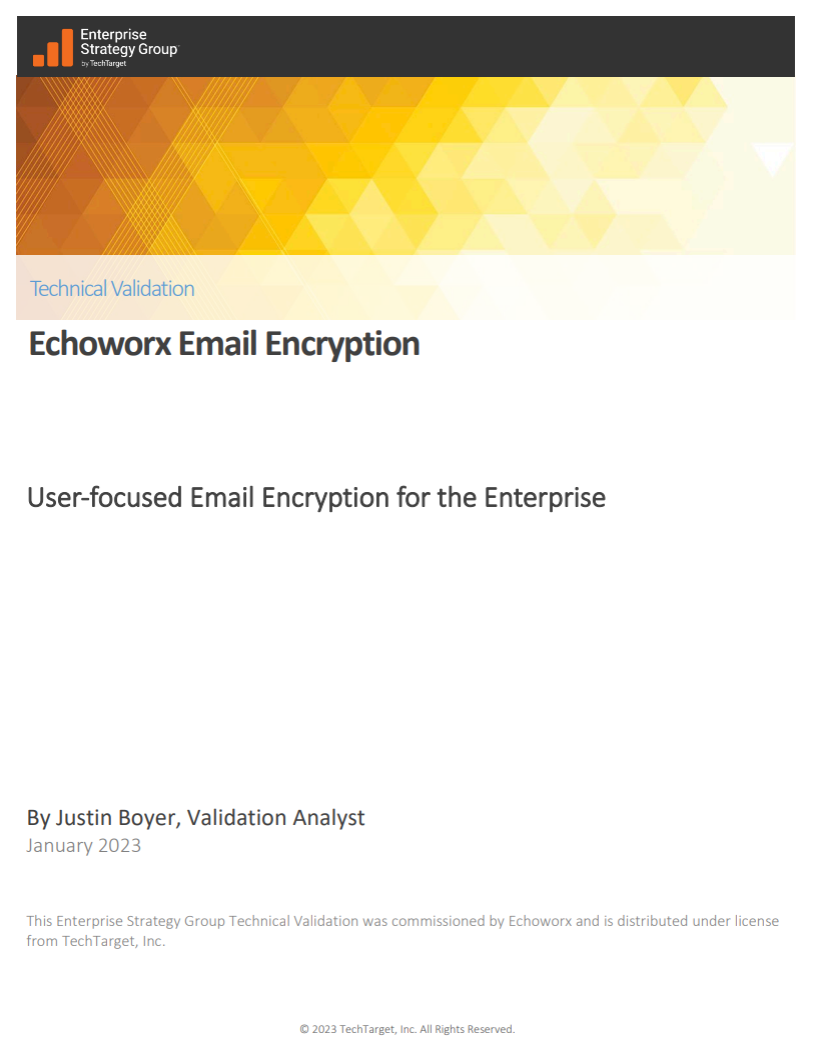 TECHNICAL VALIDATION
Enterprise Strategy Group validates Echoworx's capabilities
ON DEMAND
Insights on solving encryption adoption challenges
BLOG
Discover what truly sets one encryption product apart from another
Security Assurance & Certification Programs