Best-of-Breed Encryption
Protecting confidential and sensitive information goes beyond data privacy compliance and extends to protecting the security of your business as well as ensuring customer trust.
57% of organizations report that data breeches cost them between $11 million – $50 million last year.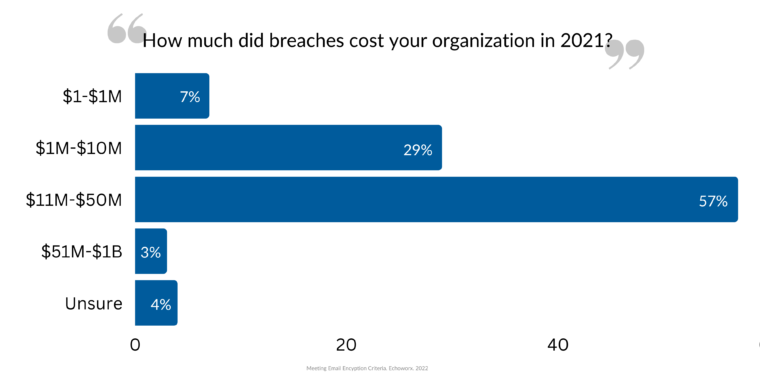 With cybercrime and email breaches continuing to be an issue and customer demand for comprehensive security on the rise, email encryption is an essential technology for protecting both privacy of communications while ensuring positive customer experiences.
Cloud Delivered Email Solutions Dominate Market
With just under a third of IT leaders reporting that up to 50% of their data is stored in external cloud, and 24% storing over that there, businesses are relying increasingly on cloud-based infrastructure – a trend that appears to be accelerating in the wake of the pandemic (451 Research, 2021).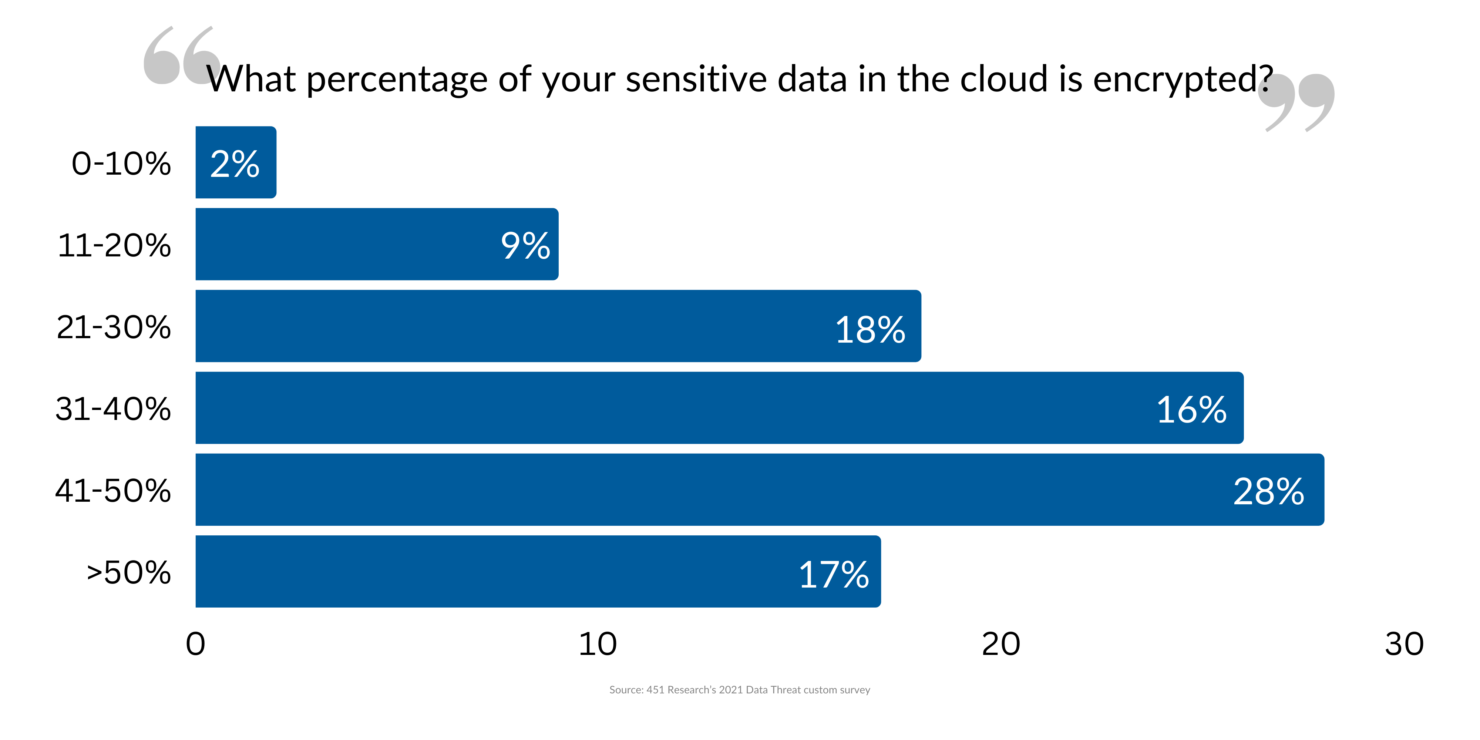 As use of the cloud takes over, software-as-a-service (SaaS) solutions for secure email encryption have become more prevalent and easier than ever to implement into existing business infrastructures.
Businesses are turning to best-of-breed solutions as an 'add-on' to supplement the typically generalized functionalities of bundled platform suites for their encryption needs. (Forrester, 2021)
Benefits of Best-Of-Breed Encryption Solutions
Rather than taking a 'one size fits all' approach, best-in-breed email encryption hones in on industry-specific functionalities designed to fit the needs of individual businesses while keeping their emails and documents secure and provide the benefits of:
Encouraging future-fit practices. Organizations need solutions that push them to be adaptive, creative, and resilient as they face new challenges. Modern solutions, like Echoworx, are built with an insider's knowledge of industry-specific needs. It supports compliance with industry regulations, which is especially important in sectors like healthcare, government services, insurance, and financial services. As business needs and industry standards change and evolve over time, these solutions provide crucial innovation.
Adding value for everyday work. Designed to adapt as organizations' needs grow, an up-to-date approach to encryption offers extensible tools that add value to everyday work by providing industry-specific functionalities that application suites may be lacking in.
Providing improved results by fostering deeper vendor partnerships. Protecting email-based workflows demands a close alignment with partners to ensure encryption integrates and extends their offerings. This takes trust, communication, and heightened alignment of practices between vendors and partners.
How to Choose the Right Solution
When considering email encryption solutions, it is best to have a clear understanding of your specific needs ahead of conducting your own research on the players in the market. Consider the following when making your decision:
Bigger ≠ better. Look beyond the large players in the market. Especially when it comes to best-of-breed solutions, it is likely that the vendor that can best suit your needs specializes only in one specific area. Understanding smaller, highly verticalized solutions will give you a better perspective on what vendor is right for you. Be sure to also ask for customer references in order to evaluate vendor's reputations.
Know your needs. What are you looking for? Assess your current capabilities and examine the cost of building out industry capabilities compared with layering on prepackaged security solutions. Ask questions about the size of deployment that the vendor is most comfortable supporting, their partner relationships, and the typical usage scenarios that the vendor supports. Be specific and realistic about what your needs are.
Vendor fit. To ensure a harmonious and lasting relationship with an encryption provider, proper fit is essential. Make clear any additional functionalities that you would like the vendor to provide while being realistic about the importance of your business to the vendor. Consider the size of your business compared to the size and customer-base of the encryption provider: are you too small for them to effectively support, or are you too large so that their resources will be stretched in order to accommodate you?
There is no doubt that with the widespread adoption of the cloud, software-as-a-service (SaaS) solutions have become more prevalent and easier than ever to implement into existing businesses infrastructures. This makes it more of a question of which specific functionalities need to be supplemented. Carefully consider your needs and the fit of potential encryption providers rather than looking for solutions from those that take a 'one size fits all' approach. Seek out encryption providers that create bespoke solutions that work for you today and into the future.
Exclusively Focused on Protecting Email-Based Workflows
Echoworx provides next-generation protection with 8 different ways to deliver secure email, support for 27 languages and 7 authentication options. Designed to meet the needs of executive management, risk/compliance officers, SecOps, IT teams, line of business management and customers, Echoworx delivers a comprehensive set of critical features and capabilities that streamline secure business processes. Request a personalized demo today to find out the benefits opting for best-of-breed encryption can make.
What You Should Do Now
Request your FREE personalized demo. Let us show you how you can get more of email encryption – to help you apply secure digital communication to different business cases.
Visit our FREE library of self-serve demonstration videos to see how Echoworx helps organizations address a variety of common business cases.
If you wish to learn more about the power and value of effective email encryption, visit our Blog or Resources Library to download guides, read up on the latest strategies and case studies of our most-successful clients.
Know someone else who would enjoy reading this page? Share it with them via email, LinkedIn, Twitter or Facebook.